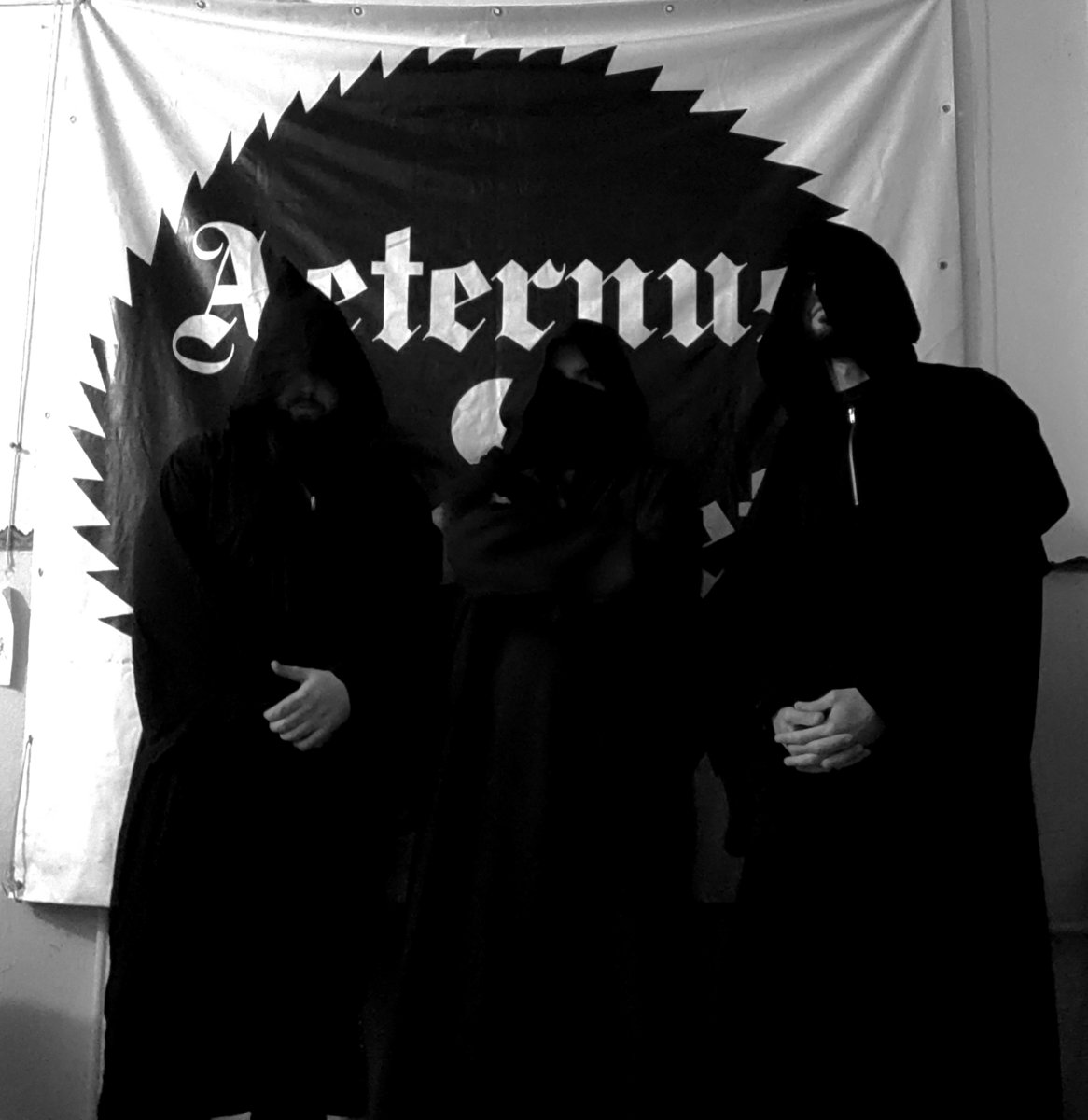 AETERNUS PROPHET is yet another band to come from the ever so fertile Ukraine metal scene. So check them out after you've read this interview. Anders Ekdahl ©2017
As I am not at all familiar with your band perhaps you could introduce it?
-Hi, we are band Aeternus Prophet from Ukraine (Kyiv region, fastiv town.) and playing black/death metal since 2010. Nowadays lineup is Veritas – vocal \ guitar, Oberon – guitar, Dessident – drums.
How hard was it for you guys to pick a name? What had that name have to have to fit your music?
-Chosing name of the band was not very difficult, we are focused on black metal and wanted to be called band in Latin, originally wanted to name Aeternus,
but this name was already reserved and we have added each one word – Prophet – which means Eternal Prophet.
Band name perfectly fits our stage image to black metal style and ideology.
What band(s) was it that turned you on to the kind of music you play? What inspires you today?
-All we now listen to different heavy genres of music. Dessident (drums) started listening to Russian heavy metal and Ukrainian alternative stage, thrash metal, but his the biggest impact was in teenage years, it was Slipknot, Kreator, but today his inspirations is Deathspell Omega, Marduk, Mayhem,
Svartidauði. Oberon started listening to heavy metal music from the band Rammstein, Korn. Today his inspiration is Black metal and Pagan metal – Marduk, Emperor, Nokturnal Mortum, Ufomamut, P.H.O.B.O.S., Crowbar. Veritas was inspired at an early age by the following bands – Led Zeppelin, Black Sabbath, Pink Floyd, Deep Purple. Now he listen Belphegor, Behemoth, Fear Factory, Entroned.
What is the advantages/disadvantages of CD and vinyl these days of internet promotion where digital seems to be king?
-We will issue a CD albums and distribute them as possible. We are released our first album autonomously without a label, the second one was on Metalscrap Records label. It was a success for us, because we always wanted to sign it. Benefits of CD and vinyl for us, is what you can collect private collections, but nowadays its makes no sense for more and more people, and they dont appreciate work of groups, supporting piracy, few orders, but we have at the moment a certain base of fans formed on the territory of CIS countries, ordering our CDs and we have fans in East Europe. Lack of physical releases is that they not long-lived, but digital copies can be sented around the world. Certainly progress online actually killed the music industry.
I use Spotify and Deezer but only as compliment to buying CDS (it's easier to just have your phone or pad when your out) but I fear that soon music as we know it will be dead and buried. What are your worries as a band?
-We already playing seven years, peak of metal movement in our county was in 2009-2013. For us main idea of music is not making money. I think that we would play metal throuth bad or good times for music.
What part does art work and lay out play? Any message that you want to bring forth with it?
-Fight to the end, always keep your goals in life, no matter what you do – play music or do sport, you need to implement plans to life under any circumstances, good or bad, and staying with metal music, it helps in the solution of many problems.In texts of a metal bands is truth, important to understand it correctly.
Is it a whole different way to promote a band today with all these social media channels? Or do you go about doing promotion the same way? Playing live and word of mouth.
-So we keep our relationship with fans through social media, communicating with fans of the territory of the CIS countries, primarily through social network Vkontakte, but at the moment drummer registered on Twitter and rewritten with fans from eastern Europe and the United States and around the world. They share our songs in different social networks and it very support us, we are appreciate for the distribution of our songs and videos.
Do you feel like you are a part of a scene, locally, nationally and internationally?
-We are have base of the fans in the CIS countries, but after perfomance in Romania, and internet activity, our international base is growing too. In other words we are reaching a next level.
How much of a touring band are you? Is touring/gigging still a great way of spreading the word of the band?
-In the previous issue we have said what we have a little tour in Ukraine and one performance in Romania. Now we will play in Ukraine in places by invites, because of the concert experience it became clear that many of the organize of the is very obscene related to their duty, for the moment we will act on the invitation
What will the future bring?
-In the nearest future plans is recording new songs for the upcoming Split with Ukrainian or foreign metal bands, which we plan to find out. Our future plans is to upgrade our instruments, our tools are well worn by the 7 years playing, some even broken, we need buy new equipment, the economic position of Ukraine wants to keep the best because, we have some problems as soon as we decide everything that is written single in studio and do a tour in Eastern Europe in 2018, thank you for the interview, thanking Metalscrap Records for publication, and all our fans for support! STAY METAL!