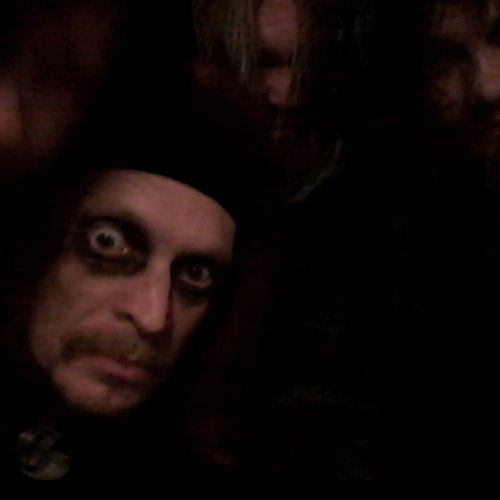 BENEATH SLUMBER is old school death doom metal. Or is it the other way around? You get the picture, don't you? Anders Ekdahl ©2018
Every band has to introduce their music to new people. What is it that you want people to get from listening to you guys?
-WELL, I STARTED TO LISTEN TO THE PRE-RECORDED SONGS BY MESELF WITH EARPHONES, ALONE AT NIGHT. THIS IS HOW I HOPE PEOPLE ALSO WILL DO WHEN LISTENING TO OUR FIRST ALBUM.
TO GET THE RIGHT FEEL TO THE SONGS. SLOW-RITUAL-DARK-DOOM-MUSIC…EMABRACE THE DARK FEELINGS!
How hard was it for you guys to pick a name? What had that name have to have to fit your music?
-I STARTED WITH DOING THE SONGS AND PRE RECORD THE MUSIC. THE THOUGHTS OF A NAME TO THE BAND CAME UP LATER.
FIRST I HAD THIS NAME IN MIND- Drachen Blut, BUT THE NAME DIDNT FEEL RIGHT TO THE FEELINGS AND LYRICS FOR THE SONGS.
SO I CHANGED IT TO -Beneath Slumber. BELOW SLUMBER, IS DEATH!
Everybody is influenced by certain things. What band(s) was it that turned you on to the kind of music you play? What inspires you today?
-THE EARLY BANDS THAT I LISTENED AND THAT HAVE INFLUENCED ME ARE; PARADISE LOST, ANATHEMA AND THEN VENOM AND CELTIC FROST, I THINK.
-TODAY I CAN GET INSPIRED FROM ANYTHING, A BIT FROM A SONG/RIFF OR SOMETHING FROM A MOVIE OR A PART FROM A WORD/SENTENCE…
When you formed did you do so with the intent of knowing what to play or did you do so from the point of having a band name and then picking a sound? How did you settle on the name/sound combo?
-FIRST I DID THE SONGS, LATER THE NAME OF THE SONGS. AND THEN THE VOCALIST DID THE LYRICS TO THE SONGS, FROM MY IDE OF THE SONGTITLES.
THE BAND NAME CAME ALOT LATER.
I believe that digital is killing the album format. People's changing habit of how they listen to music will result in there being no albums. Is there anything good with releasing single tracks only?
-YES DIGITAL IS KILLING THE ALBUM FORMAT A BIT. AND THE DIGITAL FORMAT HAVE CHANGED HOW YOU LISTEN TO MUSIC, FROM CASSETTES TO VINYL TO CD AND THEN TO STREAMS.
SINGLE TRACKS FOR ME IS MORE A WAY TO PROMOTE AN ALBUM OR TO GET AN IDEA OF SOMETHING THAT COMES LATER, A PREVIEW. AND SOMETIMES A WAY TO TEST TO SEE HOW PEOLPE
REACTS TO A SPECIAL KIND OF SONG.
What part does art-work and lay-out play when you release new recordings? How do you best catch people's attention?
-FOR BENEATH SLUMBER, I TRY TO HAVE AN ARTWORK AND LAYOUT THAT FITS THE FEELINGS OF THE MUSIC AND LYRICS.
TODAY ITS DIFFICULT TO FIND SOMETHING FOR AN ALBUM ART, TO CATCH PEOPLES ATTENTION, I THINK. SO I TRY TO DO KEEP IT SIMPLE.
Has social media re-written the rules on how to promote your music? Or do you go about doing promotion the same way?
-YES IT HAS CHANGED IT A BIT. NOW YOU HAVE TO SPREAD IT FOR FREE TO MORE
DIFFERENT PLATFORMS, SITES ETC.
BUT YOU STILL USE TO OLD WAY OF SENDING OUT PHYSICAL COPIES OF AN ALBUM(BUT A LOT FEWER COPIES) AND MORE USE OF DIGITAL FORMATS(STREAMS/DOWNLOADS).
PEOPLE WANT FREE MUSIC/SONGS. AS THE YOUNGER ONES ARE USED TO DOWNLOAD EVERYTHING WITHOUT PAYING FOR IT.
When you play in a band, does that make you feel like you are a part of a scene, of something bigger and grander?
-BOTH YES AND NO. DEPENDS WHICH MUSIC YOU DO? WHEN I STARTED DOING THE SONGS, I DID IT ONLY FOR MY SELF. NOONE HAD LISTENED TO THE FIRST ALBUM EXCEPT ME. THEN
LATER I PLAYED A FEW PRE-RECORDINGS FOR A FRIEND, AND HE LIKED IT ALOT AND WANTED TO BE A PART OF IT. AND THEN WE CONTACTED A VOCALIST AND HE TOO
LIKED THE SONGS AND FEELINGS AROUND THE SOUND. THIS WAS ABOUT 2 YEARS AFTER I HAD DONE THE SONGS FOR FIRST ALBUM.
How much of a touring band are you? Is touring/gigging still a great way of spreading the word of the band?
-BENEATH SLUMBER DO NOT PLAY LIVE. AND I HAVE NOT HAD THE IDEA OF DOING IT EITHER. BUT PLAYING LIVE IS A GOOD WAY OF GETTING NEW FANS
AND ALSO TO GET PAID FOR SHOWS. BENEATH SLUMBER DID NOT START AS A BAND, BUT IS AN IDEA FROM ONE MAN. LATER JOINED BY OTHERS.
BUT NO, I DONT WANT TO PLAY LIVE WITH BENEATH SLUMBER. ITS NOT A LIVE BAND.
BUT THE OTHER MEMBERS DO PLAY LIVE WITH THEIR OTHER BANDS LIKE; AJATUS+DEVIL LEE ROTH…
What will the future bring?
-WE ARE WORKING(SLOWLY) WITH GETTING THE 2ND ALBUM TOGETHER. I HAVE SONGS REDY FOR +10 ALBUMS(PRE-RECORDINGS), SO WE HAVE MATERIAL WAITING.
BUT AS WE DONT HAVE ANY RUSH OF PUTTING OUT NEW MATERIAL, WE DO IT WHEN WE CAN AND HAVE TIME.
-AT THE MOMENT WE HAVE AVAILABLE THE 1ST ALBUM -"Triumph Of Death"(8 TRACKS) + AN PATCH WITH ALBUM ART.
THE ALBUM IS NOT OUT AS DIGITAL STREAMS/DOWNLOADS. -ALBUM IS AVAILABLE FROM -Black Vulture Records(SWEDEN).
-THANX FOR THE INTERVIEW!
/ARGANAS