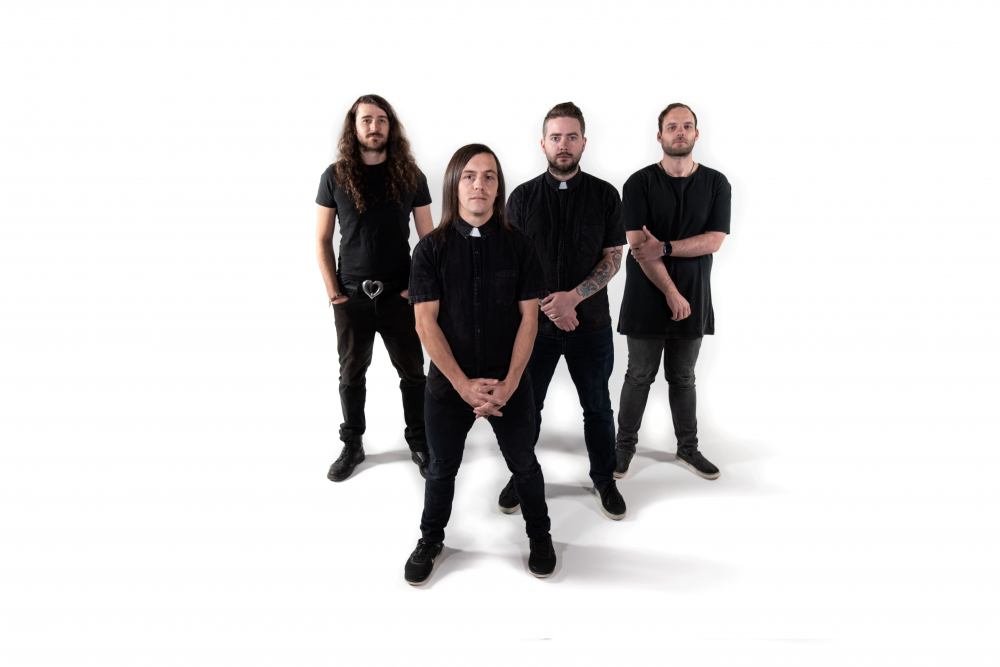 In a world were there are so many bands to keep track of I want to bring my two cents in presenting you to this interview with CATHOLIC GUILT. Answers from Brenton. Anders Ekdahl ©2019
We live in a world where there are literally millions of bands to check out. What do you have that sets you apart?
-We write honest music that doesn't pay all that much attention to the confines of style or genre. We think that honesty connects with people.
Our focus has always been on delivering the message or the story or emotion that we are seeking to convey, and using music to do that in the way that feels most natural to us. This often leads to songs that are quite dark and reflective lyrically, but bright and happy melodically. I know that I personally use music and lyricism as my primary source of catharsis, so I think those bright sounds are representative of me finding that.
How hard was it for you guys to pick a name? What did that name have to have to fit your music?
-The name Catholic Guilt had lived with me for close to as long as the spiritual condition has haunted me.
I was raised Catholic, attended Catholic schools and even long after I'd found the light of logic and rationality, the omnipresent sense of excess guilt and uncleanliness that is known to some people as Catholic Guilt, continued to live in my subconscious. So all of these songs about my life were coming out with these deep, dark, feelings of guilt, shame and self-critique, often undeserved or unearned, they'd been laying dormant for 20 odd years, haunting me. Once I learned to identify their cause, I was able to write my way into a better head-space – use the alchemists trick, so to speak. So it felt fitting that we name the band that. It also really helps that has a double-meaning that reads as an attack on the hierarchy of the church and a reminder of the horrible things the institution has done through history. As a person who is a punk rocker at heart, that's pretty fucking cool.
What band(s) was it that turned you on to the kind of music you play? What inspires you today?
-Like all musicians I would say that our music is the combination of the sounds of our formative influences filtered through the prism of our own personal experiences.
I can obviously only speak for myself here, and not necessarily the rest of the band, but my musical origin story starts with the bands I was exposed to as a child. I was born into a family with an older brother who was just entering his teenage years at the start of the 90's which is around when my first memories of life start, so the first music I was hearing was grunge and thrash and punk rock, the three big alternative genres of the early to mid-90's, then as I got older, those influences started to come together and direct me down a path towards establishing my own tastes. I fell in love with skate punk infused sounds first, so all the FatWreck/Epitaph stuff, then that naturally bled into finding bands like Fugazi and Refused on one side of things, and then late 90's emo like Jimmy Eat World, Hot Water Music, Sunny Day Real Estate and the modern 'emo/post-hardcore' that was anchored by AFI and The Used, as well as the likes of Thrice , The Gaslight Anthem and Against Me! I also got hugely into some metalcore and hardcore stuff like Strike Anywhere, Every Time I Die, Parkway Drive and Architects. As well as bands like letlive. and The Menzingers that walk the line between genres that inspired me. I'm instinctively drawn to passion and storytelling and authenticity, if you can attach a hook to those, there's a good chance I'll vibe with you.
What is the advantages/disadvantages of CD and vinyl these days of internet promotion where digital seems to be king?
-The streaming era has definitely made music more accessible, giving the opportunity for enormous exposure and listener numbers, but the obvious detriment is the low royalty numbers returned, as well as the sheer weight of new music being released every day, which makes it hard to stand out. Playlists are hugely important now and those playlists are based around a single track format, so the focus on writing records, the art of writing records, seems to be being lost a little, that's not necessarily good or bad, it just is. The advantage of physical formats is obviously the better royalties and the notion of "owning something" appeals to collectors. I'd be lying if I said I didn't miss the days of buying a CD or record and sitting down reading the liner notes and lyrics as you listen, but I'd also be lying if I said it isn't amazing to have the entire history of recorded music accessible to me at a moments notice. I think the ideal is to walk in both worlds, and you can see people are happy to do both when you see the vinyl sales increasing year on year.
I use Spotify and Deezer but only as compliment to buying CDS (it's easier to just have your phone or pad when your out) but I fear that soon music as we know it will be dead and buried. What are your worries as a band?
-Honestly, we don't spend a lot of time worrying about things we can't change. If the industry moves away from a physical sales model, as it has, we have to find new ways to live within that, if that means playing more shows, or designing more merch or trying to score publishing deals, then so be it. What's important to us is that music, the universal voice of the human spirit, is as strong and wonderful and enjoyable and important as ever. For as long as the artform exists, we'll fight to be able to survive making it.
What part does artwork and lay out play? Any message that you want to bring forth with it?
-As much as we don't want to admit it sometimes, aesthetic plays a huge part in the success of bands.
While album art isn't as important as it once was, as most people are viewing it as a small square .jpg on a phone screen, it does have a role to play in that it is often the basis for all the other elements that build band identity – merchandise, promotional material, music video concepts, content creation. So in that sense it's extraordinarily important still. We hope that our artwork is representative of what we're trying to achieve as a band. From our basic text logo to the art for "The Awful Truth" through to our merchandise and web-design, we've established an aesthetic, that is now an inherent part of the overall band identity. It works with the music, they compliment one another.
Is it a whole different way to promote a band today with all these social media channels? Or do you go about doing promotion the same way? Playing live and word of mouth.
-It's definitely important to have a strong social media presence, that's for sure. Whether or not that's a good thing or a bad thing is hard to say.
The social channels have definitely changed the way marketing works in the industry overall, in theory it's opening the world up more than ever before, but in practice, money talks and in a lot of instances you need to be putting significant sums into using those channels in a way that a brand would. One thing that is absolutely important though, especially in rock, punk, hardcore etc. is that your songs need to be good and you need to be able play live and that you do play live, regularly. Word of mouth is definitely still important and a lot of that comes from playing live, that's where you pick up new fans, also important to any band is the networking connections that you make playing live – the other bands, the venue promoters, journalists, booking agents, marketers – if you're out there playing, these people will be in your audience, and their fandom or belief in what you're doing can lead to opportunities presenting themselves. You've got to put yourself out there in order for opportunity to strike.
Do you feel like you are a part of a scene, locally, nationally and internationally?
-We're fortunate enough to be from the music capital of Australia, Melbourne which has one of the best music scenes in the entire world.
Our sound definitely has elements of that scene, of that upbringing, there's some similarities to be found between what we do and what bands in the rock and punk scenes of our cities and suburbs do for sure. We have a good little group of acts we play with both in our own city and around Australia and the scene is always building. It's less a sonic thing and more an attitudinal thing, much like with Seattle, grunge was not a sound, it was a scene. The punk community here in Australia is not really a sound, it's a scene.
We're not really in a position where we could say we are part of a scene internationally though, hopefully that'll evolve though as we can see connection between what we do and what Frank Turner does or what The Menzingers or City and Colour or even Spanish Love Songs do for example, that deep emotional, heart on it's sleeve lyrical approach with those pure emotive tones and that punk rock spirit firing through. I could see us playing Fest sometime if all goes well – that's where I think we'd live best – but I could be wrong – time will tell.
How much of a touring band are you? Is touring/gigging still a great way of spreading the word of the band?
-Touring is as essential as it ever has been in growing a band, both musically and from a profile perspective. Absolutely.
We'd love to be more of a touring band than we currently are. Australia is a massive land mass, with only a few major cities that are hundreds and sometimes thousands of km's apart. Even when you turn your attention to smaller regional towns in between, it would be difficult to regularly play more than 10 or 15 towns in an entire tour run. This means that any Aussie band keen to tour needs to head overseas. We'd love to be able to do so and we are targeting that for sometime this year, so fingers crossed the tunes and our Aussie shows help that happen!
What will the future bring?
-More Catholic Guilt music and more Catholic Guilt shows played in more towns with more bands and hopefully heaps more fans.
Specifically speaking, we've got a brand new single "The Awful Truth" our right now which we are launching in Melbourne next week, then a run of shows locally, followed by hopefully a national run, another single and fingers crossed our overseas debut. We hope it'll be a big second half of the year.