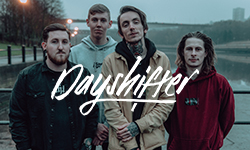 As I am new to DAYSHIFTER I left it up to them to discuss some topics of mine. Here is what TOM SIMPSON (GUITAR) had to say. Anders Ekdahl ©2018
The band name.
-Our band name was one of the few things we didn't really spend much time on when starting up the band. Suggestions were just being thrown around and Dayshifter was one that we all felt was relevant not only to the genre, but to us as a band as well. A good band name is always important when building a fan base as it looks professional and a professional name sometimes catches the eye and attention of potential new listeners more in comparison to an unprofessional name.
The new release.
-It's more excitement we feel in comparison to nerves or anxiety. We are proud of the music we create and we just want to put it out then and there if I'm honest. It sometimes sucks that there is a long process between recording a song and releasing it. We are currently writing material for our next release and it drives us insane that it won't be released for a while yet. We understand that sometimes people may not like what we release, but it's all a part of finding our sound as a growing band. We personally love what we create and I know a lot of others do too.
In the studio.
– Studio time is always a fun time for us. We have worked with our producer (Dan Kerr of Avenue Studios) for many years now and he knows exactly how we want things done. He is essentially the 6th member of our band, so studio time to us is very relaxed as we know we have the time to get things done exactly how we want.
Promotion and social media.
-Self-promotion is very important as a smaller artist as it is sometimes up to us to push our brand and music just that little bit further. We personally use a range of techniques which includes face-to-face promotion (talking to people both at shows and in the streets), and online promotion (approaching Spotify playlist curators, sponsored social media posts etc.).
Belonging to a scene.
-Metal as a collective is a huge genre, and I personally don't think our music can be compared to the likes of Iron Maiden or Cannibal Corpse, so sub-genres are important as they bring similar bands together to create a smaller, tight-knit community, as well as make it easier for potential fans to discover new bands.
Being part of a wonder.
-Being part of the music scene as a whole is great. The community is so strong at the moment, with so many great bands on the rise, and everyone showing nothing but love for each other. It makes me feel like I am a part of something truly amazing. Personally, I love the scene as it means I get to meet so many great people and make so many great friends through music. It's also amazing knowing that people can connect to us as a band through our music. It's insane.
The importance of art work.
-Artwork is extremely important to us as it is a literal way of putting a face on our musical endeavours. For us personally, we want our artwork to link back to the release itself. Our music and lyrics are written to tell a story, and our artwork is often used as a teaser to give the listener an idea of what a piece of music is about, before they've even listened to it.
The need for a label.
-The label has helped develop the band as a whole and has not only pushed us to work as hard as we can, but they have also pushed our art into places that we would otherwise be unable to reach. We are truly grateful for having Famined Records welcome us into their family. In my opinion, there is nothing negative surrounding the fact that anybody can release their music to digital retailers, as music should never be a competition. Music is an ever-growing community and I think that's awesome.
Playing live.
-I love all shows, but personally my favourites are smaller venues that are packed out and are very 'up close and personal'. We also love bigger shows with bigger crowds though as we just want to get our music out to as many people as possible.
The future.
-We are currently in the process of writing our next release. More details on this release will be coming soon. Other than that, we have plans to do a lot of touring in both the UK and Europe with some amazing bands. We are also just aiming to push ourselves and our art as far as it can go.