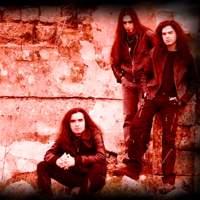 ESSENZA lingers somewhere back in my memory as a band that I have heard of but never heard a single note by. Now that I've corrected that mistake I gotta admit that they impressed me deeply. Anders Ekdahl ©2012
When I saw you band name in my review list I immediately recognised you from the 90s/early 2000s. Still this was my first encounter with an album from you guys. How much of an existence in the hidden have the band lived?
(Carlo) Yes, you are right! Our band is in activity from 1993. We started to perform in the Italian underground when we were very young, and before our last cd "devil's breath" we published two-demo cds, a live cd, an EP, and two official full-lenghts… but before 2007 all our songs were in Italian! Probably for this reason Essenza's early works are not very known. With the EP "Dance of liars" and the following "Devil's breath" we tried to reach a wider public. At the same time, also our music changed from a classic hard rock to an heavy metal style with strong thrash/power influences. But the rock 'n roll attitude remains the same.
Would you say that you're a thrash metal band? In my ears I can hear similarities to bands like Powermad. A band that tried to broaden their appeal.
(Carlo) Not a pure thrash-metal band. Our songs contain typical thrash metal riffs, and you can find also power/prog references… but in general the song writing reminds the classic hard-rock style: I love to define this mixture of styles as the distinctive feature of Essenza music.
When you have been going for so long as you have and still are pretty much an underground band, what is it that still drives you to play/record the music you do?
Alex) We always play for the music itself and, naturally, we shout out all that we have to tell. You know, make music is a strange kind of passion, and the efforts to keep it alive, must come from the inside of you, and not from inside your wallet.
How hard is it to find a record label that believes in you when you come from Italy and play thrash metal oriented music?
(Alex) In Italy it isn't a hard work, it is almost hopeless. As you have already said, our music was born in the underground and seems that always will be in the underground. But we keep looking for some label interested in our music but, so far, only names from other countries appears on the horizon.
When you are pretty much DIY how hard is it to get gigs and festival appearances in order to expose the band to a bigger audience?
(Alex) It is really a hard work. You must have multiple faces, one for play and for sing your music, and the other is for organize and promoting the events. The bigger the gig is, the bigger are the efforts to be in there. Sometimes I hope that some big label begins to take over the second face, leaving to me only the face of musician.
"Devil's Breath" seems to be an album from 2009. What is it like to still promote something that is that old?
(Carlo). We are an underground band without the sponsorship of a big label. Promotion, booking, and all the other activities, depends on our forces. Step by step, "devil's breath" cd has been first promoted by live concerts, internet and Italian specialized press, and now, after two years of delay, it was included in the Andromeda Rock Distribution catalogue. For us this is a very good result, leading us to start the international promotion and the research of a new label for the next studio album!
How much of a relief is it to have somebody professional helping you out promoting the band? How do you go about choosing who'll represent the band?
(Carlo) Today, the rock/metal underground is full of agencies, promoters & Co. that in many cases are only speculators… Nevertheless, a professional help is necessary to bring the music out of the rehearsal room! Now we are in the roster of Red Cat Promotion, and we are very satisfied by the work of the agency.
How easy is it to trust outside people with band related issues? What is your worst experience dealing with un-trustworthy people?
(Alex) In a couple of occasions, the audience (and the gig promoter) was expecting some mysterious non-rock non-metal music. In that gigs we played harder that never before so, whoever didn't like our music, had to RUN away as fast as possible. Ah ah ah!
With so many years in the scene what would you say has been the highlight so far for the band?
(Carlo) We are very proud of our last studio-cd "devil's breath", our heaviest cd, but we are sure that the next work will be even better!
If you look to the sky what do you see for the future of the band?
(Alex) You may not look to the sky, it is better to have a look to the underground. There is an entire world there, we don't want to climb any stairway to heavens, we simply want to keep playing "our" music in the way "we" want. Yeah, ok, a "major" kick in the ass will make anything simpler. Finally, we would thank you for the interview, and we would invite you all to visit our official website www.essenzamanagement.com. Horns up!