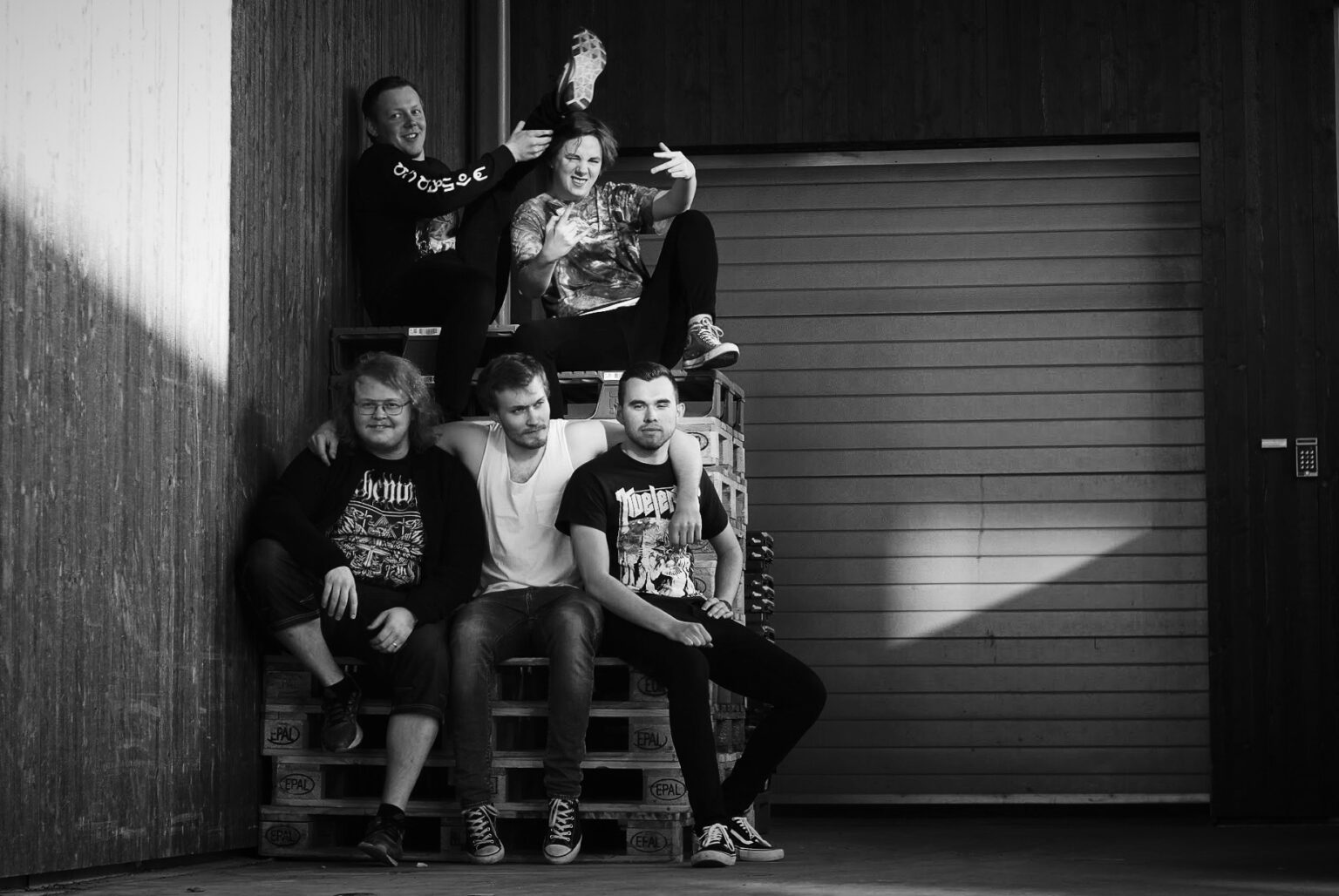 FELETH are a new acquaintance. Anders Ekdahl ©2020
A band name sets the tone for the band. With the right name you don't really need any sort of declaration of intent. Was it hard to come up with a name? What does the name mean to you?
-The name "Féleth" doesn't hold any particular meaning per se. We went for something that sounded cool whilst avoiding the norm of using any names depicting the death theme. Later on we found out that Feleth also was a surname in South America haha. It's the sickest name I know of!
Who would say are the founding stones of the kind of sound you have? Who are your house Gods and how have they coloured your music?
-When writing "Depravity" we had a lot of influences. It's safe to say that Christian Donaldson of Cryptopsy was one of the people who had a huge impact on the album as he mixed and mastered it.
The vocals in both lyrical content and texture are heavily influenced by Travis Ryan (Cattle Decapitation) and Ben Duerr (Shadow Of Intent). Bass lines tend to work with the "serve the song" principle in mind until it gets boring, then go into some bass lines influenced by Archspire and revocation. Guitars are influenced by a lot of other amazing guitarists like Dave Davidson of Revocation and Josh Middleton has been and still is one of our all-time favourites. For the drums, there's Kevin Paradis and Flo Mounier (Cryptopsy). Also here the approach of serving the song was the main goal, in which Aleksander did a tremendous job.
When you play slow do you have to think differently arranging the music than if you play faster and vice versa?
-When we arrange or write new music the slower parts tend to have a build-up or breakdown mentality behind them. The main idea is to have the slower tempo either relieve or set up for an even heavier riff. In our slower songs like Immolation, the benefit is to establish a solid headbanging groove that really takes you for a spin during the live shows.
Playing live is a totally different beast to studio work. How does your music work in a live environment?
-For us playing live is where it's at. Even if it means a nasty grinding session we play all our songs live, and still strive to polish them and our live show even further for every show.
Why? because playing our best possible in front of a crowd is one of the most satisfying feelings in the world. Going out there and giving it your all is something that both the band loves and the crowd loves to see.
How important is having a label to back you up today when you can just release your music on any sort of platform online? Are there any negative consequences to music being too readily available to fans?
-I believe that not having a label isn't a particular problem today. It's a lot of extra work to manage alone, which can be exhausting, but it is also a way of securing more income directly to the band.
With music being so accessible to everyone it's really hard to make your music stick out among all the good music that gets put out. It's definitely a lot more competition with music being as accessible as today. Having a label with a big name might help cut through and reach out to an audience a lot faster, but I believe it's not a necessity.
I get the feeling that fans that are true to a band, is a lost thing with the easy access to music these days. Do you feel that this is a bad thing or are there any positive aspects of it at all?
-I would partly agree with this statement, as I too have experienced following a favorite band and ended up not being into the new approach on never albums. You kinda end up not listening to the new stuff, but definitely still listen to the older stuff and continue to check out anything new they put out. In that aspect, I believe that most fans are at least true to what made them get into the band and still check out new material.
What to you is a great front cover? What should a cover have to make it great?
-A great front cover must represent the album's atmosphere! I'm personally into the album covers that portray people/faces. "Where Owls Know My Name" and "Autotheism" are two of my all-time favorites album covers as they both really capture the atmosphere of the albums through both colour and theme.
Do you feel that you are part of a national scene? What is the climate for metal in your country?
-I don't believe we are yet a part of Norway's big metal scene, but we aren't too far from it after the release of our album. Metal still stands strong in Norway and I believe it always will.
I use Spotify and Deezer but only as a compliment to buying CDS (it's easier to just have your phone or pad when you're out) but I fear that soon music as we know it will be dead and buried. What are your worries as a band?
-As far as physical copies go I believe music on streaming platforms has taken the market for actually listening to music. The physical copies serve more of a collector's item and a is still the best way of showing that you support the band. The ability to make your own playlists is probably the biggest appeal for the streaming platforms, but it can never replace the whole album experience. Let's be honest, nothing compares to coming home, popping a cold one, leaning back in your chair and letting the CD/LP spin.
What lies in the future?
Right now we're waiting out the Covid-19 shit and probably continuing to write some new material. We just released our album and performed a live-streamed release gig which got a ton of positive feedback and hopefully that will help us catch some more gigs in the future, once the venues are back open for business!
-Brage from Féleth