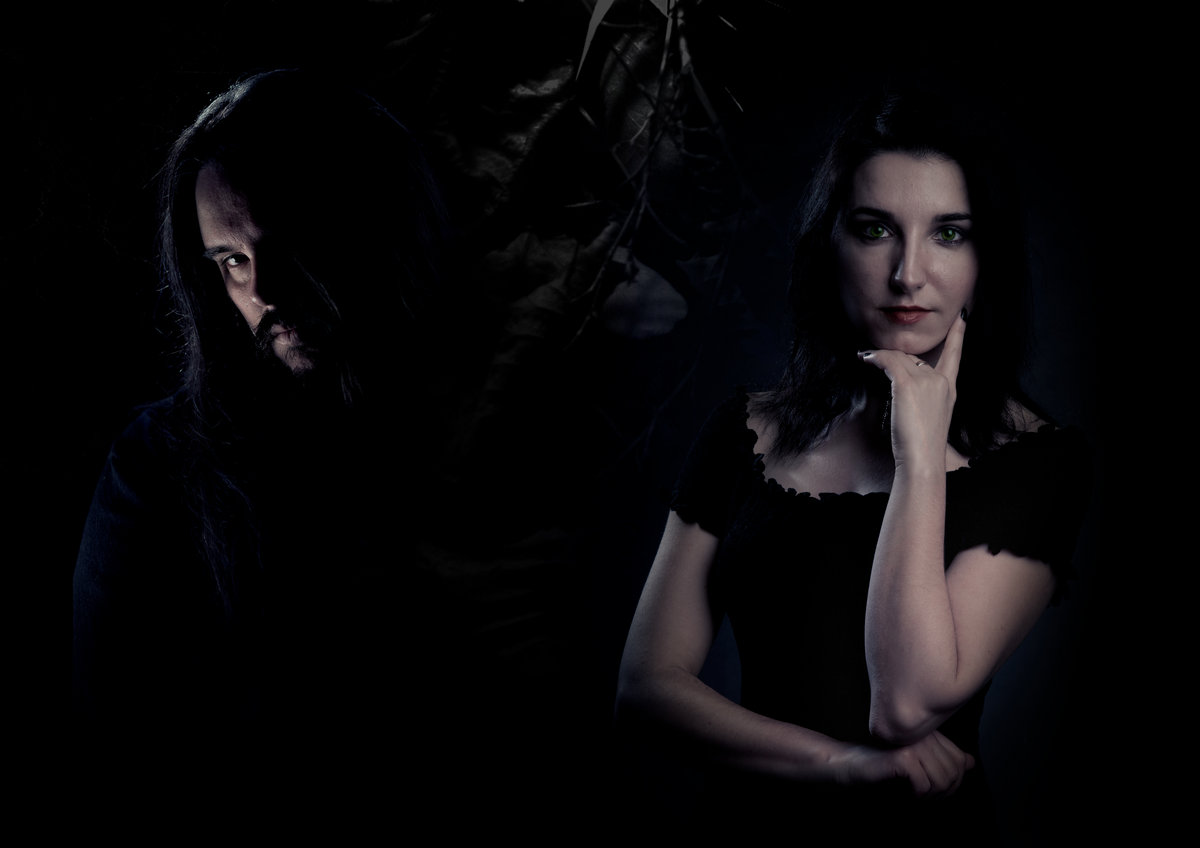 With so many cool bands out there to check out I offer you some minor guidance by introducing you to FREDERIK KLINGWALL & JULIA BLACK. Answers by Fredrik. Anders Ekdahl ©2018
WE ALL COME INTO MUSIC WITH OUR OWN BAGGAGE WE WANT DIFFERENT THINGS FROM THE MUSIC. HOW DOES THE VISION YOU HAD FOR THE BAND WHEN YOU STARTED COMPARE TO THE VISION YOU HAVE FOR THE BAND TODAY? WHAT IS THIS BAND REALLY ALL ABOUT? WHAT DO YOU WANT WITH YOUR MUSIC?
-Interesting question, I have been making music for 25 years, so I guess some fundamental things have changed over the years, but at the core is some kind of creative expression. You find yourself building an inner world to which the music is the soundtrack. I think this is something this project is based upon even if this idea was reinvented as we went along. It started on a small scale with a slight minimalistic approach and ended up as a big production step by step.
IS THERE A DIFFERENCE IN PEOPLE'S ATTITUDE TOWARDS YOU IF YOU DON'T COME FROM A COOL PLACE LIKE LA OR NY OR LONDON?
-Hmm I wouldn't know since I am not from any of the cool places mentioned hehe. Certain places build up an aura of a particular tradition and I guess these places provide an illusion. The question is whether this image feeds into peoples dreams or not? I don't think the music industry is as glamorous and cool as it is might be perceived.
However in the underground I sense people are more interested in the quality of the music rather than thinking about whether an artist comes from a cool place or not 🙂
WHEN YOU RELEASE AN ALBUM THAT GET PRETTY GOOD FEEDBACK, HOW DO YOU FOLLOW UP ON THAT? HOW IMPORTANT IS THAT I AS A FAN CAN IDENTIFY ALBUM TO ALBUM?
-It depends of course, I always like to have a sense of a red thread to what I am doing. I try to use different techniques, instruments, arrangements and/or other things to create a sense of unity. Then again I think I might not notice things that is more apparent to the listener.
Most important of all is that I make music that I like and keep myself curious and open for new ideas and never take shortcuts.
WHAT IS THE BIGGEST CHALLENGE IN THE CREATION OF AN ALBUM? HOW DO YOU WRITE THE REALLY COOL SONGS?
-Hmm going from vision to production I guess. Booking musicians, studio, all the "admin" so to speak. Songwriting is the easy part! The best songs practically writes themselves. If you find yourself struggling with a piece, well maybe you should let the ideas rest and see if inspiration finds you later. When it comes to creating an album you need to balance things
I SAW DAVE GROHL'S DOCUMENTARY ABOUT SOUND CITY AND IT MADE ME WONDER WHAT IT IS ABOUT ANALOGUE RECORDING THAT YOU DON'T GET WITH DIGITAL? HAVE YOU EVER RECORDED ANALOGUE?
-With each technology there are strengths and weaknesses, and as it matures you learn to master what each thing bring to the table. With certain analogue gear you have a very tactile feeling and they are indeed built to be very musical to the ear. A lot of digital gear is transparent and predictable which also is a strength used right. One difference could be that with analogue gear you listen more instead of watching waveforms on a screen etc. Indeed I have recorded on analogue tape. I actually prefer digital recordings with analogue sound sources which is a bit broken or old, that to me is the best of both worlds and the amount of tools available today is unprecedented. Then again, more options could easily make you less creative.
WHAT IS IT LIKE TO SIT THERE WITH A FINISHED ALBUM? DO YOU THINK MUCH WHAT PEOPLE WILL THINK OF IT?
-It is a strange feeling actually, suddenly it is not something you work on and your whole perspective to what you have in your hands has changed. It is something finished. It goes from a very introvert process to an extrovert one. To me it is inevitable to start thinking what people will think of it. I am very happy with the result and proud of this album so of course it makes me happy if people like it, but if someone doesn't that's fine too.. Most of the time when I am done with something I am already in my mind working on the next project which
HOW IMPORTANT ARE THE LYRICS AND WHAT MESSAGE DO YOU WANT TO PURVEY?
-The lyrics are of course a big part of Sentience. They are there for the listener to interpret and make a meaning of.
EVER SINCE I FIRST GOT INTO METAL THE ART WORK HAS BEEN A MAIN MOTIVATOR IN BUYING A RECORD. WHAT PART DOES ART WORK FOR ALBUM COVERS PLAY IN THE WORLD OF THE BAND?
-They are important in the sense that the artwork has the ability to convey and enhance the mood of what you are already saying with the music. Since we have a strong cinematic foundation we want the artwork to be a part of the whole even if it is abstract and not totally obvious on the surface. The music, lyrics and visuals work in a symbiosis.
WHEN YOU PLAY LIVE DO YOU NOTICE A DEGREE OF GREATER RECOGNITION FROM THE FANS WITH EACH NEW TIME YOU PASS THROUGH TOWN?
-We have not played live with this project but I have been touring with other bands and to a degree this is true. However you need to focus a lot on being out and playing live shows for this to happen. It is truly hard work to get a live playing band going.
WHAT DO YOU SEE IN THE FUTURE?
-Keep writing music and doing interesting musical collaborations. One of the best things with music is to be able to work with a lot of creative people.