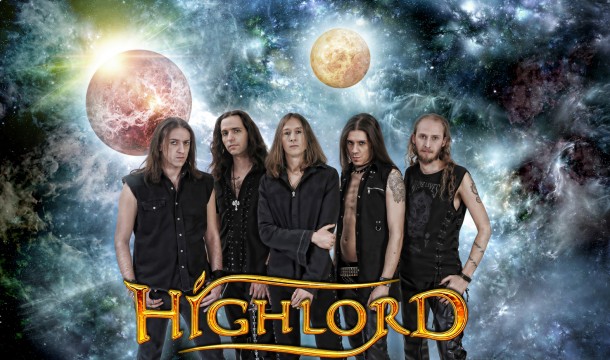 By name alone HIGHLORD kinda set the scene for what style of metal they play. As I wanted to know more about the band I had to interview them. Anders Ekdahl ©2013
I love cool band names, the ones you can almost feel the metal the play just by saying the name. How did you come upon your band name?
Sted: well … the story goes back in 1994 more or less. In those years I was really into Fantasy role playing games and literature such as Tolkien, Gemmel, Salvatore and the like. I spent lots of evenings with my friends and some band mate playing AD&D games and we took the name from a Dragonlance game manual. Highlord was a word used to name a Character from that book, a very powerful warmaster and we liked it, so we decided to adopt this monicker. All the '90 were filled with bands that had something in common with Fantasy topics. Blind guardian, Helloween, Yngwie J. Malmsteen and lots more .,. look at least at their album covers and you will see. We did the same.
How important is it that the album title fit with the cover art work and the lyrics? Do they have to connect?
Sted: It should be important! Unfortunately not always we achieve it. I think the new album cover connect with the title. You can see and angel "fired" from the Heavens and devils laughing and mocking all around. It's like "you were warned man, now it's late!" The planet is giving us any sort of warning to avoid the end, but all we can see humanity is simply ignoring it.
What was it that made HIGHLORD sound the way you guys do? Is there a specific component that you can put your finger on?
Sted: I think we should divide Highlord musical style in 3 different periods. From the first to the second album we followed the typical Italian Power Metal stream leaded by bands like Rhapsody (they were not on fire yet) Sky Lark, DGM etc. We used lots of symphonic sounds and arrangements and we took inspiration from classical music as well. With "Breath of eternity" we started to insert some "prog" element because bands like Dream Theater and Symphony-X came out with their outstanding technical skills!!! Lately, after the departure of our previous keyboard player, our sound changed again. To be honest I still love our old albums but I must say that "The Death of the artists" and "The Warning after" are more genuine and free from the cliches of the Italian metal scene. This might be not so useful when speaking of sales but I really think I/We found our dimension.
When you have an album to promote how much do you think about it every day? How much of your time is consumed by promoting the album and band?
Sted: ok I'll speak for myself since I don't know about other band members. Once a new album is out, I really think about it all daylong … I spend many hours at the computer contacting websites, 'zines, radios and trying to reach them for a review or interview. I use many websistes like CdBaby to help us sale some tune more and of course, I hope the label releasing it do its part.
Lately it is becoming more evident that without a booking agency (this means spend money for the band) italian bands cannot achieve that much and we're thinking about it seriously because we'd like to obtain something more from our music.
Is it your experience that it is getting harder today to promote your band because there are so many out there? How do you do to stand out?
Sted: my personal opinion is that the huge number of bands coming out is just a small problem. People don't buy cds anymore, most of them at least, since you can download all you want for free no one really cares about how many bands are out there or not. I can confirm by the way that the market really changed since 1990 and now we're facing a crisis we couldn't even imagine before. There's 2 ways to stand out: 1)spend lots of money. 2)don't give a fuck about it and continue play what you like. I adopted the second method.
What kind of reactions have you had to your latest recorded work? What did you expect it to do for you?
Sted: well … I was a bit worried since when you don't follow typical schemes the Italian wave pretend you are subject to all kind of criticism. Fortunately we received a quite warm response this time and for the first time many people started saying "Highlord made their style clear". This means much to me since I am the main composed at the moment and let me hope people will listen to a new album knowing it will sound the Highlord way and nothing more.
Is it important to get a positive reaction from your local/national metal scene? What kind of responses have you had to HIGHLORD?
Sted: It is important! The reaction for "The Warning after" is good I cannot say different. Press is recognizing the fact Highlord built their own style and separated from 1990 Power Metal style of "When the Aurora falls …" And for the first time they are appreciating it instead of just pointing the finger. I am happy about it.
Can you describe the feelings you had when you realized that people from abroad actually like the band?
Sted: it is awesome and it is the only reason I/we still hold the ground. Italy is not a nice place for our music, people don't care so much about us. This is so sad and depressing but is the truth we have to face. Knowing things are a little different abroad is our life lymph! (Andy's quote)
When you write music and lyrics do you think about the fact that they will be around forever?
Sted: forever? Hmm … well not really. Even if we put so much of ourselves into the lyrics I will be surprised to know people red words in the booklet. I always recommend to do it since our lyrics are deeply connected to the music and I think listening to a song while reading can drastically improve the experience and maybe let you know Highlord better.
What kind of future do you see?
Sted: I am not sure about that. We are getting older you know … life is a lot different since we started, we have to work now to bring home the pay and some of us have children to care about. Playing your own music in Italy is really hard and there is always a great chance you won't get paid or worst! You'll have to pay.
I hope we will be able to release some more album and possibly play in some decent gig, please follow us on FaceBook and support the band in order to make it possible ok?
Thanks to all of you!