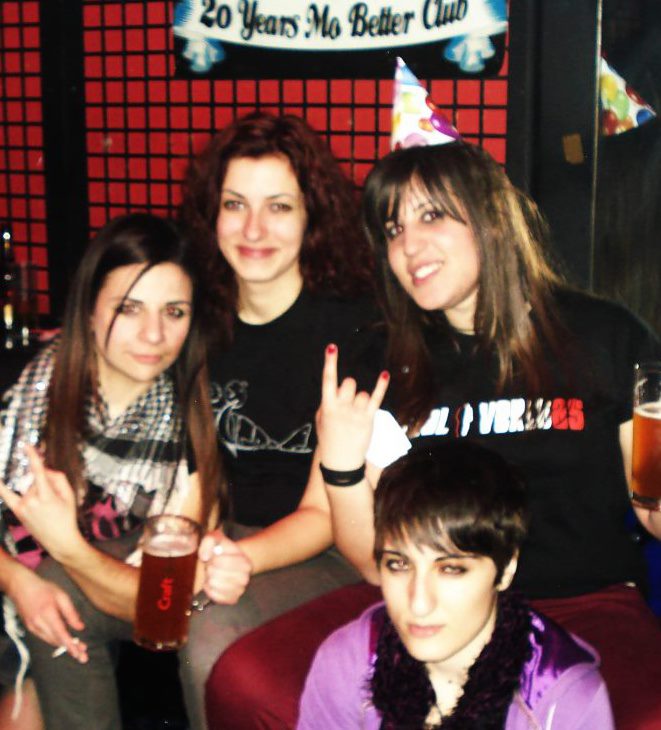 NORMAH from Greece proved to be a positive experience. Not your usual Greek metal this turned me on to a whole new side of Greek metal. Anders Ekdahl ©2012
Normah might be a new name to many out there. Could you please give us a short introduction into what makes Normah Normah?
-First of, thank you so much for your time and Battle Helm for this interview, we really appreciate it. Well, we are 4 girls, playing metal, loving what we do, trying to evolve in every way. Oh, and there's a drummer who does the main vocals.
Normah isn't the typical Greek band in that you are neither pure heavy metal nor extreme metal. Where did the sound of Normah come from?
-We had a lot of criticism about the genre that we play, that it can't be defined and that we copy other bands like Opeth. Can you define Opeth? I know I can't. I'm not saying that we play like them (we all wish we did), but it's really difficult nowadays to put a label on every band, especially with all the numerous sub genres. We're trying to be as sincere as we can with our sound, getting inspired from almost everything, even non musical and we try to fit almost every influence into one as far as possible.
I'm familiar with the extreme metal scene of Greece as well as the fascination of heavy metal but what is it like to be a band like Normah? Where do you fit into the Greek metal scene?
-It's true that it is rare to have an all female metal band in Greece, there are like 3 or 4 right now, but we have had an unexpected good acceptance from the audience. Nevertheless, there are still those that even though they haven't heard us or seen us live and they are like "They are girls. They can't play metal." Although, they are the ones to come and say to us afterwards "you were great I never thought that girls can play metal that good." We would like to be compared to other musicians not only as girls, but overall.
You've released a record on your own. How much of a necessity is a record label today when you can do pretty much all by yourself?
-Well, it's a doubled edged knife nowadays. You have to make sure to sign a really good deal, something that isn't very common today. You either invest a budget you can afford, but don't get too much publicity and you do all the hard work or give a larger amount of money and expect the label to distribute your music, something that you can't always rely on. We believe on the more DIY thing, it's more sincere.
What was the intention with the release of your record? Did it achieve what you set out for it to achieve?
-Our intention with this EP, 'darkest is the hour before dawn", was to put our music out there. We were a band for like a year and a half and a lot of people were asking for more material. We had already recorded 2 songs that we didn't include in the EP, we wanted something fresh. Overall, yes, we did achieve a part of what we were set to. We've learned a lot from it, being our first release ever and we will always look back to it with love.
How far have Normah reached the World so far? What are you aspirations with the band?
-I would have to say only as far as Sweden! Hahaha. We would really love that our music would travel around the world. Our aspirations is to evolve musically each one at her "field", making music that we love, playing as many gigs as possible and get the name heard. In the future we plan to release a full – length, but that might take a while.
How much support do you get from the Greek music industry in your goals to get bigger? Are you featured in any mags that can take you abroad? How do you promote the band the best?
-We haven't got deep into the music industry, seeking out contracts and stuff. We are really happy that we have supporters, coming out at our gigs, showing that they like what we do. Except for the net press, where the feedback was in most cases positive, we were featured in the Greek Metal Hammer magazine getting really flattering and positive comments about our EP, scoring a great 7 out of 10. We tried our best sending out our EP to all the known websites and magazines, we have a page on Facebook, bandcamp, reverbnation and all the social communications sites that can really help you promote your work.
Are there any limitations to being a Greek metal band? I can't seem to remember too many Greek bands that have made it really big in recent times?
-The truth is that the Greek metal scene is expanding and becoming really big. Well, there are Rotting Christ, Firewind and Septic Flesh that are like the holy trinity of big Greek bands and have made it abroad. There are no limitations if you really love what you do and you are willing to leave behind almost everything. But sadly that is not a realistic option for a small band like us. You have to put in a great amount of time, energy and of course money to succeed. Unfortunately, music is not enough nowadays.
We have all been hearing about the economical crisis in Greece. Does that affect the way you operate as a band?
-It does not affect any artistic part of the band, on the contrary it is in hard times like these that you are most inspired. It's true that we can't do other stuff like buy expensive gear or record and produce an overly costly record. But we try our best to keep the quality high.
What future would you like to see for Normah?
-Hopefully with a great full – length, doing more gigs this time as an opening act.