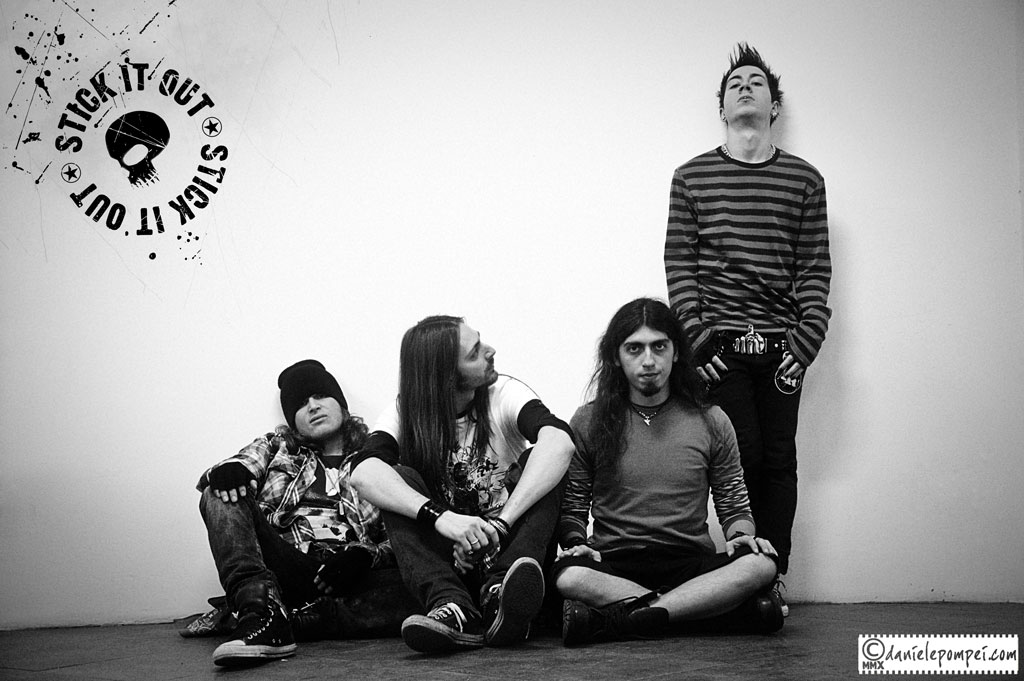 STICK IT OUT is another new Italian acquaintance that I feel I will keep for a long time. I kinda like the idea of an Italian The Hellacopters doing the rounds which was enough for me to want to interview the band?
You mention a Scandinavian rock influences to your sound. What is it that is so great about Scandinavian rock?
Tripp: I think that Scandinavian rock brought some new influences in the classic rock n roll style that came from the late seventies and the eighties. The sound is very composite, rough and fresh, mixing punk attitude and glam style.
Andy: Yes, because rock'n'roll nowadays has lost some of that dirty and punk attitude that we love, and all the rock scene is full of too much clean and pop-oriented bands. I always preferred the attitude of bands like Hellacopters, Gluecifer or Backyard Babies because they still preserve that raw sound, that's all
What other influences do you have?
Andy:We have influences coming from so many different styles. I've grown up listening classic punk rock and metal band, and I also deeply love all the grunge and alternative scene from Seattle. For sure all guys in the band love the classic sound of stooges, mc5 or more modern like social distortion and foo fighters, but anyway I'm really proud that Stick It Out music isn't a mere reproduction of this or that band, but we have our signature sound.
Tripp: Everybody in the band comes from a different rock background and obviously everyone has its own influences but we try to mix them together to find our personal trademark. We sound like some punk rock band with alternative melodies.
You've shared a stage with a lot of Swedish acts. What kind of relationship do you have to Swedish rock/punk?
Tripp: We supported Backyard Babies, Crucified Barbara, Bullet and other bands on the road. We always had a great time with all of them. We look forward to play with them again!!
Andy: Yes, simply happened that we shared the stage with mostly of the Swedish band that came to play in Italy in the past years!! They're pretty different from us, but there was always big respect and a lot of fun in the backstage
When you mix punk with rock how do you avoid ending up another tiresome punk rock band?
Andy: I think that in our music you can find many different elements, not only coming from punk rock. We worked really hard on the vocals arrangement , because we all want to print our melodies in your head! We've spent so much time to make our songs pretty raw and aggressive, but keeping the melody as main aspect in our sound and we're very happy about the final result.
What is the hardest part in writing songs? How do you avoid repeating yourself?
Andy: Everyone in the band has taken part in the writing process and the fact that everyone brings fresh ideas and his personal influences help us to be not repetitive. I must admit that for us it's pretty simple to go in studio and write something, and nowadays we can use all this technology to help us fixing ideas.We have our project studio that for us is a second home and I think we've spent more time there in the past year, writing and arranging 'Today's Dump' that in my apartment!!
Tripp: The hardest work is not to write a good song. Everybody is a good musician in our band and everybody has a good background of experiences. I think that the hardest part is to create something that is very new, something that sounds like us, something that is unique.
What in your opinion does a perfect song have to have? How long should it be to be ideal?
Andy: I've always loved the short and straight in your face song. I just need a good guitar riffing, some good vocal melodies and harmonies, and a solid and destructive rhythm section!
Tripp: A good song?? A great impact, some blasting verse and an anthemic chorus!! Ok, I'm kiddin'…..A good song it's a good song. I mean, we don't care too much about timing and stuff like that. I think that we have a great song when everybody is diggin' what we are playin'.
How important are the lyrics? Do you have anybody that you look up to lyrically that serves as an inspiration?
Andy: Personally I've always thought that lyrics are as important as the music. I think that you cannot just take a pen a write down some stupid lyrics that fit the music, but you must wait the right moment, the right inspiration. Usually I just write about what I see around me and the feelings born from that, and I like to keep the topic a little out of focus, so that everyone can give his own interpretation.
Tripp: Everyone usually writes the lyrics alone about some stuff happened personally in his lives, but on the last record we wrote two or three songs together about some people that make us very pissed off. It was very fun and we enjoyed a great time together.
The kind of music that you play is best served live. Do you agree? What kind of live scene is there for your music?
Tripp: I'm totally agree with this statement. Rock music should be played only live!! We try to play more live shows as possible but sometimes the situation is so bad here in Italy.
Andy: Right, we like to take our van and live on the road, with all the problems that this life can create. There's nothing better than see a bunch of guys under the stage shaking their heads and singing our songs and the raw attitude of our music has its natural meaning in the live performance.
Do you do covers? If so what does a great cover have to have to make it differ from the original?
Andy: We always play a couple of covers at our shows and in the past we have even recorded an ep with music from all the bands that we love and have influenced us. For sure we like to change them a little and we play them in the Stick It Out way, especially when we take music from bands pretty different from us…we have even covered Michael Jackson 'Billie Jean' in the past and we've found particularly good to put heavy distorted guitars on a pop song!
What future is there for Stick It Out?
Andy: Ahah we already imagine us on some tropical beach drinking champagne with some bikini girls! Seriously, now we are busy promoting our new 'Today's Dump' playing in live club, at festivals, acoustic showcase, radio, and making interviews…it's pretty intensive! We're also planning to shoot 1 or 2 videoclips.
Our main goal is to make the most people listen our songs, not only rock'n'roll fans! Finally we hope to see you at some our shows, 'cause we're sure that's the best situation to discover Stick It Out music!