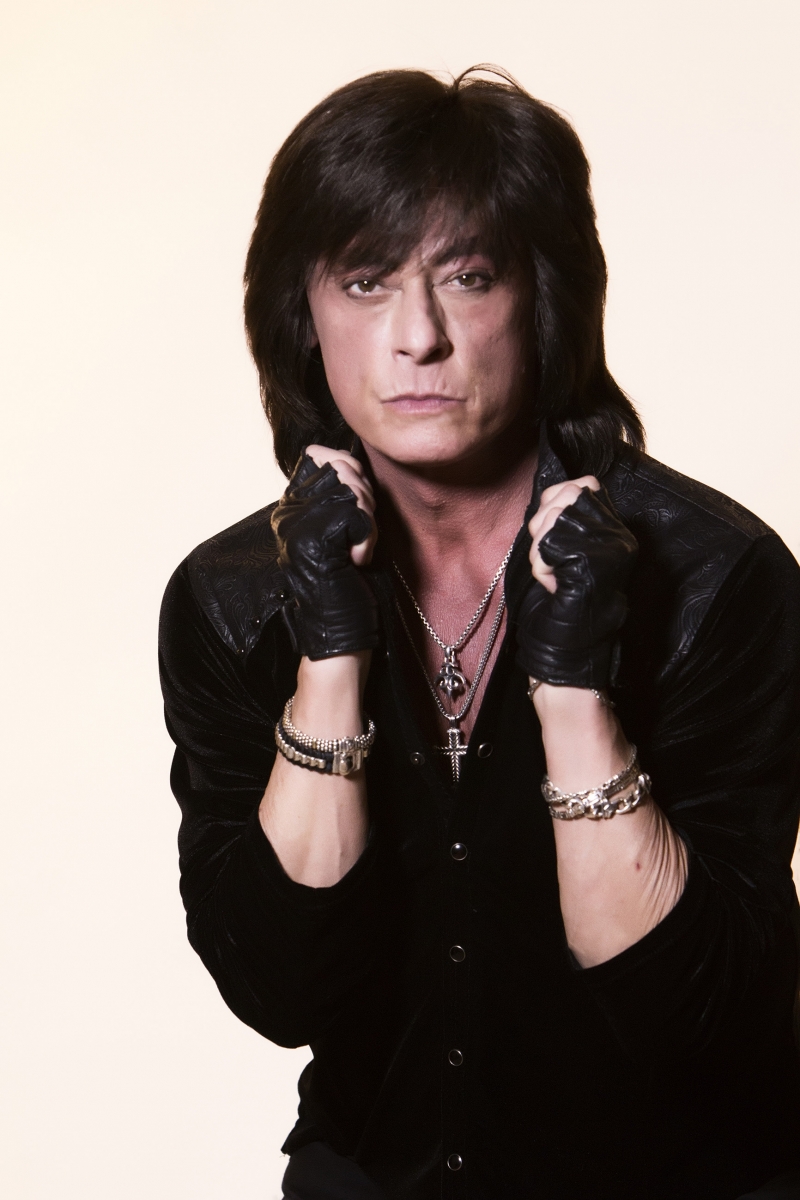 If you are totally unfamiliar with Joe Lynn Turner you have been living in outer space for the last 40 years. With SUNSTORM he's back with a new album. Anders Ekdahl ©2016
When you release a new recording does it feel like you have to start anew a couple step back because so much time has passed and so many new bands have entered the scene since the last album or do you just pick up where the last one left?
– NEW BANDS COME AND GO…I HAVE BEEN DOING WHAT I DO FOR MANY YEARS AND MY FANS AND SUPPORTERS ARE AWARE OF THAT…I REMAIN CONSTANT IN THIS EVER CHANGING SCENE…WITH ALL OF MY WORK THERE IS ALWAYS A GREAT DEGREE OF INTEGRITY…. SO I DON'T FOLLOW TRENDS OR FASHION LIKE MANY BANDS DO…I AM NOW INVOLVED WITH A NEWER DIRECTION IN A FUTURE PROJECT…I'M SURE MANY WILL BE VERY SURPRISED WHEN IT COMES OUT…HOWEVER IT WILL STILL BE CONSISTENT WITH MY STYLE…
Do you have an aesthetic that you keep true to from recording to recording (i.e. stylistical same art work, lyrical theme etc.)?
– I BELIEVE SO…I THINK ALL SINCERE ARTISTS HAVE A POINT OF VIEW…AND WE CAN REPEAT THAT VALUE IN DIFFERENT WAYS…AND OF COURSE I HAVE A 'STYLE' …A MUSICAL STYLE…NOT COVER ART….LYRICAL CONTENT CAN CHANGE FROM TIME TO TIME AS THE
SITUATIONS IN OUR WORLD CHANGES…I'M VERY CONCERNED WITH THE GEO-POLITICAL POLITICAL SCENE AND THE DESTRUCTION OF OUR ENVIRONMENT ….AND HAVE BEEN FOR MANY YEARS…JUST LISTEN TO 'MOTHER'S ARMY'…WE WERE ALL OVER THOSE SUBJECTS AND MORE!….
How hard is it to come up with lyrics to the songs? When do you know that you have the right lyrics?
-WELL…'RIGHT' IS A PERSONAL WORD…YOU WRITE WHAT YOU AN TO CONNECT WITH THE LISTENER…SOMETIMES THEY GET IT SOMETIMES NOT…I CAN'T BELIEVE HOW MANY PEOPLE DO NOT LISTEN TO THE LYRICS CAREFULLY…THE MESSAGE IS BEING LOST…AND AFTER ALL …THAT'S WHAT WE AS ARTISTS AND MUSICIANS ARE SUPPOSED TO BE DOING…CONNECTING WITH THE MASSES AND CHANGING THEIR PERSPECTIVE ON THINGS.
How hard is it to find the right art work? What are you looking for?
– YOUR IN CONTROL OF THE ARTWORK…SOMETIMES NOT SO MUCH…OF COURSE IF I ABSOLUTELY HATE SOMETHING I EXPRESS MY FEELINGS TO THE COMPANY…OTHERWISE I TRY TO TAKE CONTROL OF WHAT THE ALBUM ART LOOKS LIKE…
Do you ever feel that you get misinterpretated because of the music you play?
LOL!…ALWAYS!…I'M NOT EXACTLY DOING THE TRENDY STUFF AND SOME PEOPLE DON'T GET IT…OR THEY DISMISS IT AND ONLY LISTEN TO WHAT THEY CAN RELATE TO…I BELIEVE IT'S A MISTAKE …I LISTEN TO ALL KINDS OF MUSIC TO BROADEN MY PERSPECTIVE,TO SEE WHAT I CAN FEEL AND LEARN FROM IT.
You as an artist have been successful over a couple of decades now. Playing with great musicians and recording albums that will last forever. How much do you think about the legacy that you'll leave behind you?
– WELL….IT CERTAINLY NOT EVERY MOMENT OF EVERY DAY…LOL!…BUT THERE ARE TIMES I AM REMINDED OF THE CATALOG OF WORK AND I THINK THAT IT'S REALLY SOMETHING TO BE PROUD OF….IT SEEMS SURREAL SOMETIMES BECAUSE I JUST KEEP GOING ON WITH WORKING AND TIME PASSES AND I REALIZE IT'S BEEN LIKE 40 YEARS! …SO…I AM VERY SATISFIED WITH THE LEGACY I HAVE CREATED…BUT THERE'S MORE TO BE DONE…ALWAYS!
When started out playing live was the way to sell albums. Today you have people that sit at home expecting to get everything for free without doing anything for it. Where do you see this development ending?
– I HOPE VERY SOON!…LOL!…BUT I DON'T BELIEVE THAT WILL BE THE CASE…IT'S REALLY HURT THE INDUSTRY AND ALL THE MUSICIANS ….HOW CAN SOMEONE MAKE A LIVING WITHOUT THE MOST IMPORTANT REVENUE STREAM LIKE SELLING CD'S?…MERCH AND LIVE ARE WHAT WE HAVE NOW AND THAT SEVERELY LESSENS THE ECONOMIC INCOME OF AN ARTIST. I MEAN YOU DON'T WALK INTO A RESTAURANT AND EAT WITHOUT PAYING
DO YOU?….SAME THING!….WE ALL WORK VERY HARD AND IT'S DISAPPOINTING AT BEST TO HAVE THE CD SALES TAKEN AWAY….IF YOU'RE NOT CONNECTED TO A LABEL YOU CAN SELL CD'S AS MERCH …BUT EVEN THAT IS A LIMITED WAY OF MAKING A LIVING.I REALLY FEEL FOR THE GUYS JUST STARTING OUT AND STRUGGLING WITH
THIS PROBLEM…BUT YOU KNOW…NOBODY SEEEMS TO LOOK AT IT AND SAY IT MUST CHANGE…NOBODY BUT US MUSICIANS ANYWAY, …THERE ARE SOME PEOPLE WHO STILL RESPECT THE SRTIST AND PAY FOR THE MUSIC ANYWAY THEY CAN…I'VE HAD PEOPLE SEND ME MONEY FOR A DOWNLOAD!…I NEVER ASKED BUT THEY WERE THAT CONCERNED AND RESPECTFUL!…YOU GOT TO LOVE THAT DEDICATION THEY HAVE!
I get the impression that today's touring scene is most made up of festivals or multiple band line-ups. Is it harder/tougher to tour today?
– YOU ARE ABSOLUTELY CORRECT!…AND THAT IS A SIGN OF THE TIMES…IT IS MUCH HARDER TO TOUR…ECONOMIES ARE DOWN…PEOPLE HAVE LESS MONEY…AND THEY NEED TO PICK AND CHOOSE WHO AND WHEN THE GO TO A LIVE SHOW…IT GETS EXPENSIVE…ADD UP ALL THE COSTS TO GO TO A FESTIVAL AND YOU ARE IN PRETTY DEEP POCKETS TODAY!…THANKS TO THE PEOPLE WHO CAN STILL COME AND TOUGH IT OUT…WE ARE ALL IN THIS SITUATION TOGETHER.
If you were to decide how would the stage show look like?
– WELL…THERE ARE SO MANY CREATIVE THINGS I WOULD LOVE TO HAVE WITH A SHOW BUT IT'S JUST IMPOSSIBLE IF YOU ARE NOT ON A HIGH PAYING TOUR….MACHINES FOR BACKDROPS AND FOG AND BANNERS AND THE REST ARE DIFFICULT TO CARRY WHILE ON TOUR UNLESS YOU'RE DOING BIG VENUES AND CAN COVER COSTS….MOSTLY NOW I JUST GO OUT AND TRY TO GIVE THE BEST PERFORMANCE I CAN WITH A GREAT BAND AND THAT IS THE SHOW…DOWN AND DIRTY…STRAIGHT UP ROCK AND ROLL!
10. What does the future hold?
– I'M FORTUNATE TO HAVE A PROMISING FUTURE…I'M WORKING ON A NEW SOUND THAT WILL CHANGE PEOPLES PERCEPTION OF ME…A MORE MODERN …DARK AND HEAVY SOUND…IT'S TIME TO RECREATE MYSELF AND THIS IS COMING ALONG GREAT!…..NOT SURE EXPECTED TIME OF DELIVERY BUT I CAN PROMISE THAT IT WILL BE VERY DIFFERENT.
OTHER THAN THAT I HAVE TO FINISH THIS YEARS TOURING SCHEDULE…PROMOTING 'SUNSTORM:EDGE OF TOMORROW"… WORKING ON SOME DIFFERENT PROJECTS.LIKE A ROCK OPERA…DUETS WITH DIVAS IN SEVERAL DIFFERENT COUNTRIES…A WINE BUSINESS…CLOTHING LINE…ETC….I'M HAPPY TO BE BUSY AND PRODUCTIVE….AND VERY BLESSED TO DO SO….AND I WOULD LIKE TO TAKE THIS OPPORTUNITY TO THANK ALL MY FRIENDS AND FANS WHO HAVE SUPPORTED ME ALL THESE YEARS…WITHOUT YOU THIS COULDN'T HAPPEN…MY LOVE AND THANKS!