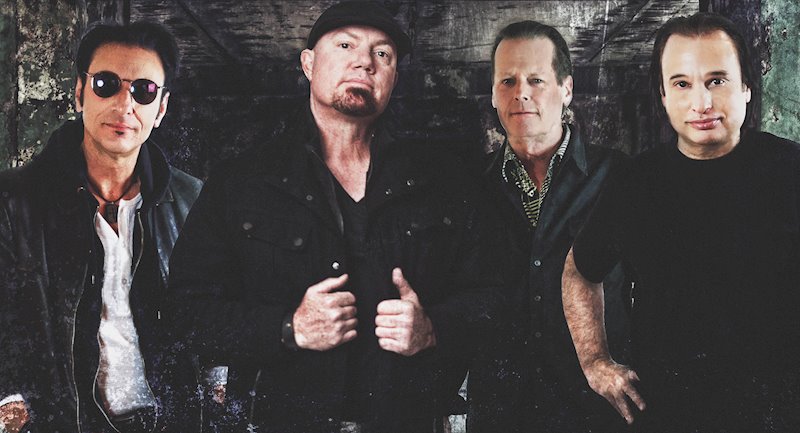 With so many cool bands out there to check out I offer you some minor guidance by introducing you to THE OUTFIT. Interview with Lead Singer Andy Mitchell. Anders Ekdahl ©2020
The Outfit is hoping you feel something when you listen to our music. Weather it's punching a hole in something while listening to Viking or feeling melancholy while listening to Bleed in the Dark. If we have made you feel something we have done our job.
THE NAME
-The Outfit name was really easy Mark the drummer in the band had the name right away and even a concept. We all loved it. Being that the band is from Chicago we went with the ganster theme which seemed really fitting for a Rock Band
WANTIONG TO PLAY AN INSTRUMENT
-I think every guy in the band would answer this question differently and thats what makes The Outfit who we are. If you were to ask me who turned me on to play the music we play I would respond with Nirvana, Chevelle, Radiohead and Soundgarden. Obviously I'm a 90's guy Ha! What inspires me today is simple and catchy song writing. I don't feel like anything new has inspired me lately I'm still pulling from my roots.
THE SOUND
-When we formed the band we did have a sound in mind and that was trying to achieve a sound somewhere between Cheap Trick and Foo Fighters. It was easy writing in that format because this is the kind of music we love as a band.
DIGITAL V/S PHYSICAL
-You are so right that the digital world is killing the album format. Which is a real shame because there is so much thought that goes into creating a record from the art work to lyrics and pictures of the band. People kind of create an image in their mind of the band by listening to a record from start to finish while reading along with the lyrics. I guess the only good thing is that a band doesn't have to make a record they can go in and record one song at a time and get their music out there quicker.
ART WORK
-The art work I feel is so important on a record you are trying to tell a story through the art work to the listener. It's all part of the package and experience. I think we will really catch people attention with the nice colors and the super cool art work.
FAN RELATION
-In some ways yes. You can have a more direct relationship with your fans. But we still think touring is the best way to reach people.
BEING A PART OF SOMETHING
-Definitely makes us feel like we are part of the Rock n Roll scene doing what we do. You can't help but feel larger than life when you are in that stage doing what you love to do.
PLAYING LIVE
-We haven't done a lot of major touring yet mostly 3-4 shows in a row a month. Touring is always a great way of spreading the world about your band because people can feel the energy from our live show that's contagious.
THER FUTURE
-Hoping to get back out there real soon once we get through this virus We currently have shows in July and August with Kings X and Puddle of Mudd but last I heard I believe they are going to be rescheduled. We are really excited and proud of our new record "Viking" and hope to see you at a show soon.
Cheers Andy Mitchell