The first time I heard of THE ROYAL RUCKUS was when they supported The Temperance Movement back in December 2015. I had won two tickets to that gig (I'd pay for it anyway) and was really stoked to see The Temperance Movement but when I stepped in and heard THE ROYAL RUCKUS play I was totally blown away.
Yeah I know. This is Sweden and the quality of rock/hardrock/metal is of world class but hearing a local band being so bloody good was like being struck by lightning, over and over again. The groove in the music and the voice of Guernica was like being transported back to an age when the music did the talking and the bullshit kept on walking. No shade on The Temperance Movement, they rocked my pants too but it was this local band from Landskrona, 25km south of Helsingborg that left me jawstruck. I have since then caught them live on several occasions and always with a smile on my face.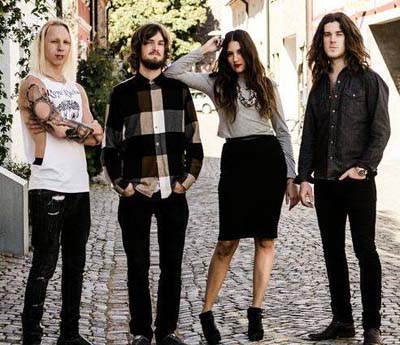 But what irritates me is that I have been living in a bubble for so long. The more I get to know of THE ROYAL RUCKUS the more I discover that it is I that is late in discovering them. You catch at word here and there when you see them live and from what I have gathered they have only had a form curve that points straight up. From appearing in local band contests to playing live they only gather more and more fans. And people that hear them, either for the first time or tenth time, all say the same. THE ROYAL RUCKUS are too good to just stay a local act. It's fun to hear people that have been there since day one debate over whether they came in second or third or if they won and how many times they've entered the local band competition.
There is a buzz going for them locally
And with what seems like a non–ending hype for Swedish bands it is a bit of a mystery why they haven't been signed yet. They keep building their reputation by constantly playing live, home as well as abroad. And in an age where download and listening at home seem to take over more and more it is nice to see a hard working live band making the round.
And since I am late in discovering THE ROYAL RUCKUS I've missed out on their recorded work too. So far they have 4 recordings to their name- All of which can be found on platforms like Spotify etc. But this isn't music that you should listen to on your computer. Unless you got it connected to a really good sound system, hell, you should not even listen to it on CD. This is the kind of music that should be heard on vinyl. But since 3 of the 4 recordings are available on CD even those of us that aren't too excited over digital can listen to `em.
"27" is from 2013 and while it might not seem that long ago I can guarantee that in the case of this band's evolution, it is a long time. Hell, it is even a long time since the 2015 EP because this band goes forward in a manner that blinds you. Musically this owes as much to Janis Joplin as it does to Jimi Hendrix as it does to Deep Purple as it does to this whole Swedish wave of retro rock with bands like Graveyard, Witchcraft, Blues Pills, Lugnet, Black Marbles, you name it. This is hardrock like it used to be before all the genres came to life. Bluesy as hell and with a groove that could kill a Hippo or a Rhino. From a time when there were only two types of music; good or bad. There are only 4 tracks on this but they leave you wanting more. And "27" is the age at which both Janis and Jimi died. It is also the age when Cobain took his own life.
"1+ 2" compiles two recordings on one album. Ten tracks all in all of groovy as fuck music. Show me that person who can keep still when listening to this and I'll show you a person dead from head to toe. Shit, this is the kind of music that would even wake the dead. The songs are so full of life and emotion that you just gotta stand up and dance like there is no tomorrow. This is the kind of songs that transports you into a world all your own, where time and place don't exist. Timeless you could say. And that is what music should do. It should make you create your own universe. The "1"
part of this is filled with a bunch of upbeat songs that are all faves. I can't choose one of the other. I like em all. The first song off "2"
is a bit heavier but it still grooves. "Lesson" is what Kid Rock really wants to sound like but can't quite make it. "2" has the feel of a band that sort of has gained more self confidence. That they trust their gut instinct more song wise. But then again, over 14 songs so far I haven't really stumbled upon one single bad track. And you always find one or two filler tracks no matter the artist.
"Wake Up" is the latest EP from the band. And on this we find my, for the time being, number one THE ROYAL RUCKUS song; the opening track "Let Me Tell You". This is the track that I'd play had I had a radio show, over and over. On this EP you get another 4 tracks that just will make you want more. This is the kind of music that you want to fill your whole record collection with. Stuff that you can put on repeat and just let it keep going and going for infinity. There are very few bands that make you feel like that but once you've found one you won't let go for anything in the world. I feel that way about THE ROYAL RUCKUS. I don't want to miss out on the journey that they have in front of them. I am terrible at picking bands that will make it big but with this lot not even I can fail. This is going to be BIG.
If THE ROYAL RUCKUS should by chance pass you by close enough go and see them live. You won't be disappointed. This is another Swedish band ready for world domination. Trust the music. Anders Ekdahl
Live dates
160901 Live At The Heart. Örebro Sweden
160909 Folk å Rock. Malmö Sweden
161013 St Gertrud. Malmö, Sweden